About Us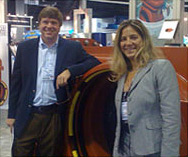 Caricap is all about export. 
Caricap sprang from Chris Fulton's desire to see the world, experience cultures, and do business overseas. Caricap is an acroynym for "Caribbean Central American Pipe." Chris saw the need for international financing to sell his waterworks, irrigation, and plumbing products. Thus Caricap came to mean "Caribbean Capital" with an emphasis on trade finance. Today Caricap is a leading Export Management Company, or EMC, specializing in all types of water systems and component fittings. Caricap speaks English. Caricap speaks Spanish. And Caricap speaks pipe. 
Mission
We promote clean water and sanitary sewer in Latin America.
We make exporting easy and profitable.
We are committed to removing the risk and eliminating the hassle of exporting Pipes, Valves & Fittings. 
Somos todos bilngues y estamos para servir.