Projects & Experience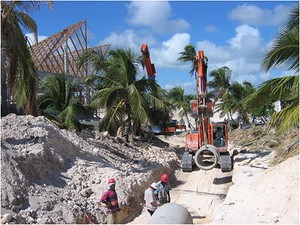 Tobago Plantations Golf & CC, Trinidad & Tobago
Mainline Aqueduct, Cap Cana, Dominican Republic
Punta Espada Golf Course, Cap Cana, Dominican Republic
Samana Water Supply, Samana, Dominican Republic
Hermanas Mirabal Acueduct and Supply, Salcedo Dominican Republic
Cobija Water Supply, Bolivia
Coatri Water & Sewer, Bolivia
Tikal Mainline, Guatemala
Quetzal Tenango Water Supply, Guatemala
Matagalpa Water Supply, Nicaragua
Rose Hall Sewage Treatment, Jamaica
Punta Arenas Sewer Treatment, Chile
Escondida Lixiviacion, Antofogasta, Chile
Ruimveld Water Supply, Guyana
Black Pearl Golf Course, Roatan, Honduras
Interamerican Development Bank, Jacmel Haiti
Portmore Force Main Sewer, Jamaica
Pilat Potable Water Transmission, Bolivia
Misicuni Cochabamba Potable Water Transmission, Bolivia
Leogoane Potable Water distributor, Haiti
Green Island Water main, Jamaica
ACP Under Panama Canal (selected fittings only), Panama
What people are saying about CARICAP
"With it's expanded working capital, Caricap was able to finance a transaction exporting bathtubs and sinks from Kohler Co. in Kohler wis. To the Capcana project in the Dominican Republic and has also been able to export plastic raw materials to Jamaica from Encon Inc., a small business n Dayton, Ohio."
- Export-Import Bank of the US- News Release Dec. 2004
"Thanks to Caricap and its Eximbank backed loans our distributor was able to sell hundreds of thousands worth of dollars, put the Kohler name at a high end Dominican resort, and sleep securely at night throughout all the delays. "
- Malisa Jackson, Caribbean & Central America Sales Manager, Kohler Company
"The U.S. should send Christopher Fulton to Latin America as its ambassador because he understands us South Americans"
- Marco Hawrylak- Owner Superblas, CxA
CARICAP Supports BLUE missions and LIFO missions.
LIFO (Living Instruments For Others) is a non-profit organization based in Miami, Florida, that develops self-help projects in remote regions of the Dominican Republic. Our mission since 1985 has been to help some of the poorest people improve their living conditions and consequently, their education, health and future prospects. For over 25 years LIFO has been coordinating with religious and other non- governmental organizations in the country and has focused on helping small villages in the interior of the country with three basic needs: Clean Water, Education and Healthcare.
LIFO is a volunteer group led by two friends, Albert and Alfred, who went on their first volunteer trip to the Dominican Republic when they were 16. They thought it would be a fun trip away from their parents but twenty years of service later it is clear that the experience changed them forever with a lifelong commitment to help others. What they have created is a successful grass-roots non-profit organization that focuses not only on the success of the project but also in forging connections between the volunteers and the campesinos believing that this is what it takes to make long-lasting change.
The Water Project is a documentary that follows the group's 20th anniversary trip to the Dominican Republic as they build an aqueduct for a remote community that has never had running water.
Caricap Inc. has been part of these missions, since 1998 in the Aqueduct Project in Hondovai, Dominican Republic. And keeps supporting the missions and projects in many different ways until this day.